A new exciting development in the learning management system Namaste! LMS (PRO module) lets you sell multiple courses as bundles. This gives you excellent flexibility and more options to monetize your work. You can combine any courses within a bundle and sell them exactly the same easy way you sell courses – PayPal and Stripe support is built in.
Let's see how this works:
Creating the bundle
This is simple. Go to Course Bundles link under your Namaste! LMS menu. Note that this link is available if you have Namaste! PRO version 1.5.3 or newer installed. Click to create a new bundle: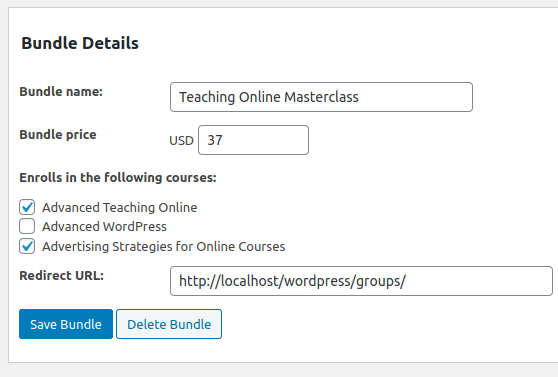 The bundle name is mostly useful for management purposes so you know what is it about. Set up a non-zero price.
Select the paid courses which this bundle will give access to. You will see only non-free courses for selecting.
Entering bundle redirect URL is optional but highly recommended. This is the URL where the user will be redirected after purchasing the bundle. It could be a page with a welcome message, links to the purchased courses, and so on. Or at least the URL of the course you think is best to be started first. If you skip entering URL, the program will redirect the user to the first course in the bundle by alphabetical order.
Publishing the shortcode
After you have created the bundle you need some way to sell it. Each bundle has button shortcodes which you can copy from your Course Bundles page:
Depending on the payment methods enabled in your Namste! LMS Settings page it will have a shortcode for each payment method.
The shortcode generates only a payment button and nothing else. The idea is that you will have some kind of sales page where to offer one or more bundles with your own copy and/or images and media.
You can include basic info inside the shortcode with the "info" patemeter shown below the table.
When bundle is purchased
When the bundle is purchased the user will automatically get enrolled in all courses of the bundle. There is currently no special email notification for purchasing a bundle. However if you use the Namaste! Connect module you can set notifications for the student when they get enrolled in the courses of the bundle.
The student will be automatically redirected to the bundle redirect URL (see the info about creating a bundle above).
Troubleshooting
If a customer paid for a bundle but did not get access to it, please check the payment error log in Namaste! LMS settings page just below the payment options box:

You can always manually enable a bundle for every registered user from your Course Bundles page -> View payments link.