From version 1.4.3 Namaste! PRO enables a very important new feature: access control to any site content.
What Is It Exactly?
The new access control feature let's you restrict the access to any post, page or custom post type (special content created by many plugins or themes) based on any (or both) of the following criteria:
User is enrolled in selected course(s)
User has completed selected course(s)
Once such restrictions are enabled for a post or page, that content is no longer accessible to non-logged in users (unless you un-select the courses). The users who have not enrolled or completed the desired courses will get a message saying that they must do it before they can access the page.
Users who satisfy the requirements will see the page without any other notices.
Note that administrators will always see all content – the restriction will not be imposed on them.
How To Enable It?
First, enable the feature from Namaste! LMS Settings page: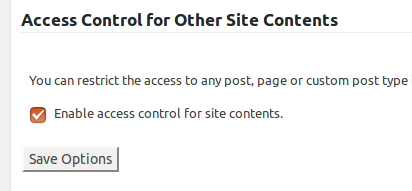 If you enable it, your Add/Adit Post (or other content type) pages will get a box on the sidebar listing all your existing courses: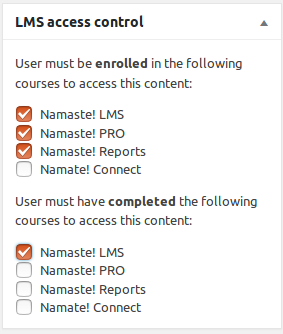 You can select as many of them as you like and define enrolled or completed criteria.
If all courses are unchecked in both sections the post / page remains accessible to everyone (including non logged in users) as usual.